What Are Rebar Chairs Used For?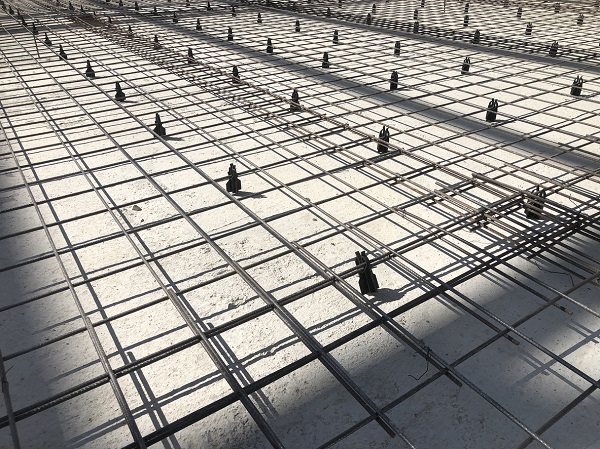 Rebar chairs are specially-designed components made for supporting rebars, which are embedded metal bars used to reinforce newly-poured concrete. Rebars are laid out in a criss-cross grid pattern and are locked together with the rebar chairs before the fresh concrete is poured over them. This reinforcement is necessary when laying the foundation for a new building.
Rebar chairs, like the rebars, can be made of metal, but that only increases the likelihood of them rusting and cracking over time, ruining the structural integrity of the building's foundation. The thermoplastic rebar chairs manufactured by Retlaw Industries are guaranteed to never rust or crack, ensuring rebars will never budge during construction.
Precision Molded Plastic Rebar Chairs
Pouring reinforced concrete is a costly and complicated process, but is a necessity in high traffic or load-bearing areas. In order to get the most out of the steel reinforcing bars used in the concrete industry, proper spacing is a must.
A doubly-reinforced structure with proper rebar spacing will withstand both tensile and compressive stresses, giving it a high tolerance for strain for its lifetime. Improper spacing, even if slight, will result in a reduction of the structure's integrity.
Achieving proper rebar spacing is time-consuming. As any foreman knows, time is money. Fortunately, the injection molders at Retlaw Industries have produced a solution with our polyethylene rebar chairs. These rebar supports make it easy to achieve optimal reinforcement bar spacing for pouring concrete and paving.
Advantages of Polyethylene Rebar Chairs Supports
High resistance to solvents, oils and many acids
Lightweight durable plastic lends to easier handling
Fast and convenient snap-lock design saves time
Eliminates tying at support points
Low cost per unit
Plastic Concrete Chair Features:
Accommodates size #3 through #6 rebar gauges
Available in heights from 1 to 6 inches
Rebar Support Types
Retlaw Industries produces rebar chairs in the following configurations:
Single Direction Chairs – For use along the length of rebar between reinforcing intersections and along edges of concrete structures.
Dual Direction Chairs – To be used at intersecting points of intersecting reinforcement bars
Rebar Clips – Sometimes called speed clips, are used in place of cumbersome wire ties or welding to secure rebar together, especially in walls and stepped pouring configurations.
Quality Rebar Chairs Built by the Professionals at Retlaw
Industries all over the United States trust the quality products manufactured at Retlaw Industries. Our injection molding experts have had decades of experience manufacturing high-quality rebar chairs for all types of businesses, which means you can trust our dedication to what we do. Our certified plastic injection molding specialists can manufacture your rebar chairs for you to your exact specifications. You will never have to compromise quality when you get your industrial plastic products from Retlaw Industries.
Industries that commonly use rebar chairs include:
Get a product quote on rebar chairs today from the professional manufacturers at Retlaw!
Meeting Construction Needs in the Midwest and Beyond
Retlaw Industries supplies high-quality rebar chairs to businesses in Colorado, Illinois, Indiana, Michigan, Minnesota, New York, Ohio, Pennsylvania, Washington, Wisconsin, and beyond. Our rebar chairs feature exceptional resistance to solvents, oils, and acids and the lightweight, durable plastic ensures easier handling. The fast and convenient snap-lock design saves you valuable time on-site. Contact us today to get started!
To get the best in plastic rebar chairs for the paving and concrete industry, contact Retlaw Industries.